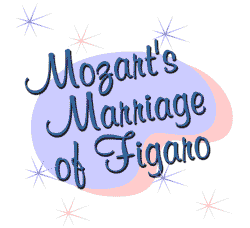 This libretto is the translation created for the Newnan Community Theatre Company's production in October, 2002. Production photos are here.
NOTE: The order of Act III has been modified, moving No. 18 (Sextet, "Come and hug your loving mother") and its accompanying recitatives to follow the Countess's aria, No. 19 ("How did love go?"). Based on the research of Robert Moverly and Christopher Raeburn in their article, "Mozart's FIGARO: The Plan of Act III," this modification resolves some transition and plot problems.
Here is a link to a literal translation for comparison.
If you are interested in using this translation for a production, contact Dale Lyles at dale@dalelyles.com.
Here are some arias to download and peruse, if you like:
No. 4: Now, I've got him! (Bartolo)
No. 6: I don't know where I am (Cherubino)
No. 12: Come, kneel in this vicinity (Susanna)
No. 17: They have won without a lawyer? (Count)
No. 18: Come and hug your loving mother (Sextet)
No. 19: How did love go? (Countess)
No. 26: Sleepyheads, yes, you sirs! (Figaro)